The statement which Melvin E Conway stated in 1967 is more than ever relevant today: "Any organization that designs a system (defined broadly) will produce a design whose structure is a copy of the organization's communication structure".
As you exist in different groups of people within an organization, it is essential to have an outside-in approach when setting up the organization.
This is why, to succeed with your digital transformation, technology is just a small part of what needs to change. More important are people and processes and as Conway says this means organizational change.
We have all been in on multiple organizational changes, all with different degrees of success. When the change is for instance looking at headcounts, facilitating management control, economic visibility, etc. Starting here will give you the wrong focus.
Although these are all important parts of driving a company, I believe that as Conway says you should instead look at what is the core of your business, what is the value you want to deliver, and how do you want to deliver to your customers?
In my mind, you need to get the organization onboard and committed to the three major building blocks of change: the why, the what, and the how. Also known as the golden circle.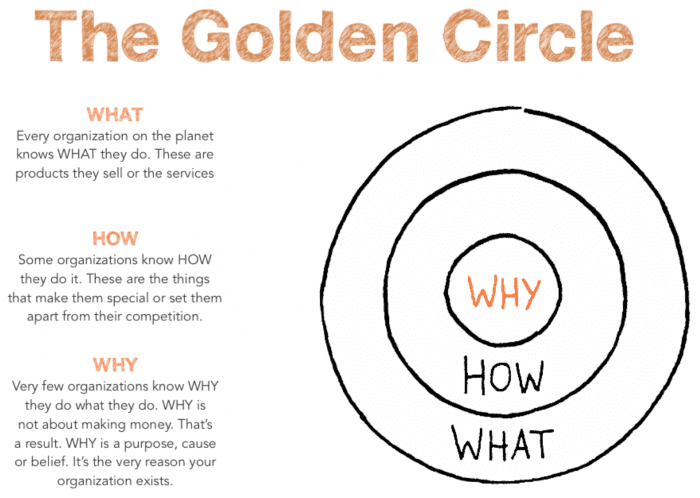 Why should we change?
Like Simon Sinek says, always start with the Why. That is, use your organization's mission and vision as a guide, to shift the focus to the how and the what. Answer; What is our company's goal, what is it that gives benefit to our customers, our employees and to our owners?
With this in mind, define what needs to be changed with a from – to methodology.
For example:
From working in silos to working collaboratively
From risk aversion to smart risk-taking
From avoiding conflict to managing conflict
From being reactive to being proactive
From working on projects to managing products
From technology platforms to business capability delivery
From relying on expert advice to seeking diverse opinions
From "security owns security" to "I own security"
From deep expertise to versatilist knowledge
From status quo to agile learning
From being IT-centric to customer-centric
What should we change?
To provide the wanted benefits to your customer at the correct time, it is essential to organize for a fast flow. Autonomous and Agile teams are de-facto standards and I believe that most companies are setting up their work in this way. You need to look at how the team is set up for this to be enough to meet the wanted situation.
We want to have teams where the communication paths within the team are frequent and between teams are sparser. The team also needs to have ownership of the architecture which is used to provide the customer with the value they are expecting. The choice and use of tools are important to secure flow, correct communication and collaboration, and optimal output from the team. In some cases, tools should be shared to achieve the wanted outcome. In other cases, teams need different tools or their own instances of tools. Last but not least the workload needs to be monitored so you can catch when a team becomes a bottleneck and thus works against the flow. This should be analyzed and remedied, for instance by splitting the team or moving some responsibilities to other teams.
Matthew Skelton and Manuel Pais writes very comprehensively in "Team Topologies" about how to ensure team set-up to create teams for fast flows as well as describing the pitfalls to look out for.
How should we change?
As I see it, we should ensure that in our world, where disruption is the new normal, we can continue to provide business value by using change as the means to become resilient and adaptable.
By using modularity in technology as well as in our organization the way forward is to compose well-designed modules to make change a trusted and empowering practice instead of a threat.
As Gartner states, the structural pillars of composable business are:
Composable Thinking
Composable Business Architecture
Composable Technology
Having an architecture made up of Modules with properties of Autonomy, Orchestration, and Discovery, and building Modularity by Business entities partitioned into systems of building blocks will ensure that your organization and technology, hand in hand, will provide business value to your customers according to your vision and strategy.
We can help you get started, start here
---
---
Börja med Informationskvalité. Läs vår tjänstebeskrivning.
Vår tjänstebeskrivning förklarar kort och koncist hur vi hjälper dig ta kontroll över din organisations informationskvalité, vilket är ett av de första stegen till lyckad digitalisering.